Flow Meter Air Limbah Rumah Sakit 4 Inch merupakan jenis flow meter UFM atau Ultrasonic Flow Meter, yang dimana salah satu jenis dari flow measurement, produk yang akan kami bahas hari ini adalah Clamp On Ultrasonic Flow Meter Flowmasonic WUF 620 CF Series.
Gambaran Umum Clamp On Ultrasonic Flow Meter
Clamp on Ultrasonic Flow Meter adalah jenis flowmeter yang cara instalasinya tanpa harus memotong atau melubangi pipa.  Namun sensor ultrasonic atau transducer cukup ditempel dipermukaan luar pipa dan di clamp. Sehingga pada saat installasi aliran dalam pipa tidak harus berhenti atau pompa tidak perlu mati atau valve tidak perlu ditutup.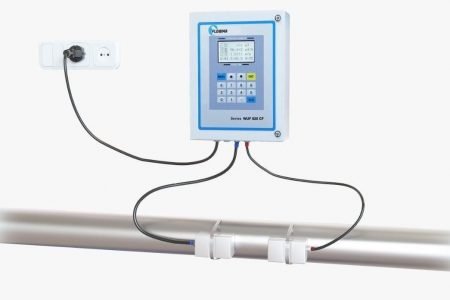 Dengan melakukan pemotongan pipa atau melubangi pipa, akan menghambat proses produksi karena aliran air harus di matikan. Selain biaya untuk memotong atau melubangi pipa yang dilanjutkan dengan pengelasan,  berupa flange atau fitting mahal dan butuh waktu lama. Bayangkan jika kita harus memasang flow meter air pada pipa diameter diatas DN250, harga flange, gasket, biaya potong dan welding pasti mahal.
Karena itu banyak engineer menyarankan menggunakan jenis insertion magnetic flow meter atau jenis flow meter ultrasonic clamp on. Dua jenis flow meter ini cenderung lebih ekonomis jika dibandingkan dengan jenis flow meter in line.
Baca Selengkapnya : Flow meter Clamp On Ultrasonic
Cara instalasi insertion flow meter cukup dengan melubangi pipa dan memasang fitting  untuk dudukan flow sensor (insert). Selanjutnya Flow sensor dimasukan kedalam pipa guna mendeteksi kecepatan aliran air dalam pipa yang dihubungkan dengan converter atau flow transmitter.
Sesuai dengan perkembangan technology para engineer banyak juga yang menyarankan menggunakan flow meter yang cara instalasinya dengan sistem clamp on. Sistem instalasi clamp on hanya dimiliki oleh flow meter ultrasonic yang selama ini banyak diaplikasikan untuk jenis portable flow meter. Jenis ini biasanya  digunakan untuk melakukan pengecekan dan pengetesan performa sistem, peralatan pompa, menjaga stabilitas dari kwalitas produksi dan lainnya.
Flow Meter Air Limbah Rumah Sakit 4 Inch
Flowma Flowmasonic WUF 620 CF Series clamp-on transit-time ultrasonic flow meter menggunakan prinsip waktu transit. Transduser Flowmasonic dipasang di permukaan luar pipa tanpa persyaratan penghentian aliran atau pemotongan pipa. Ini sangat sederhana, nyaman untuk pemasangan, kalibrasi, dan pemeliharaan.
Ukuran transduser yang berbeda memenuhi permintaan pengukuran yang berbeda. Plus, pilih fungsi pengukuran energi termal untuk mencapai analisis energi sepenuhnya. Ini diterapkan secara luas dalam pemantauan pemrosesan, uji keseimbangan air, uji keseimbangan pemanasan distrik, pemantauan efisiensi energi sebagai pemasangan yang mudah dan keuntungan operasi yang sederhana.
Flow Meter Air Limbah Rumah Sakit WUF 620 CF Series Features
4 Garis Menampilkan Kecepatan, Laju Aliran, Volume, dan Status Meter
Clamp-on Mounted, Pemotong Pipa Yang Tidak Perlu Atau Gangguan Pemrosesan
Kisaran Suhu Cairan yang Dapat Diterima -40 ° C ~ 260 ° C
Penyimpanan Data Internal Adalah Opsional
Memilih Sensor Suhu PT1000 Untuk Mencapai Fungsi Pengukuran Energi Termal
Cocok Untuk Pengukuran Aliran DN20-DN6000 Dengan Memilih Pengukuran Dua Arah Transduser Ukuran Berbeda, Rentang Aliran Dari 0,01m/s Hingga 12m/s
Saat memilih lokasi pengukuran, penting untuk memilih area di mana profil aliran fluida dikembangkan sepenuhnya untuk menjamin pengukuran yang sangat akurat. Gunakan panduan berikut untuk memilih situs instalasi yang tepat:
Pilih bagian pipa yang selalu berisi cairan, seperti pipa vertikal dengan aliran ke atas atau pipa horizontal penuh.
Pastikan panjang pipa lurus yang cukup setidaknya sama dengan gambar yang ditunjukkan di bawah ini untuk pemasangan transduser hulu dan hilir.
Pastikan suhu permukaan pipa pada titik pengukuran berada dalam batas suhu transduser
Perhatikan kondisi bagian dalam pipa dengan hati-hati. Jika memungkinkan, pilih bagian pipa yang bagian dalamnya bebas dari korosi atau kerak yang berlebihan.
Index Performa Flowma WUF 620
| | |
| --- | --- |
| Measuring Principle | Transit-time |
| Velocity | 0.01 – 12 m/s, Bi-directional Measurement |
| Resolution |  0.25mm/s |
| Repeatability |  0.1% |
| Accuracy | ±1.0% of Reading |
| Response Time | 0.5s |
| Sensitivity | 0.003m/s |
| Damping | 0-99s(settable by user ) |
| Suitable Fluid | Suitable Fluid Clean or tiny amounts of solids, air bubbles liquid , Turbidity<10000 ppm |
| Power Supply | AC: 85-265V DC:12- 36V/500mA |
| Installation | Wall Mounted |
| Protection Class | IP66 |
| Operating Temperature | to +75℃ |
| Measuring Unit | meter,ft,m³,liter,ft³,gallon,barrel etc. |
| Communication Output | 4~20mA, OCT, Relay, RS485 (Modbus-RUT), Data Logger ,GPRS |
| Energy Unit | Unit : GJ,Opt: KWh |
| Security | Keypad Lockout, System Lockout |
| Size | 244*196*114mm |
| WB4:C22eight | 2.4kg |
Baca Juga : Portable Flow Meter : Definisi, Jenis, dan Fungsi
Dengan dukungan dari Flowma WUF 620 CF ini dapat membantu dan mengefisiensikan tenaga anda, untuk informasi lebih lanjut, klik disini. atau ingin mengunjungi marketplace, klik disni.